How efficient is the 2018 Kia Optima?
By Product Expert | Posted in Kia Optima on Tuesday, May 8th, 2018 at 7:26 pm
2018 Kia Optima available engine options and fuel economy 
The Kia Optima has become one of America's most popular sedans in recent years, thanks in large part to its sponsorship of the NBA and its long-standing commitment to quality and durability across the board. This has left Kia's flagship sedan as one of the top vehicles on the market, both in terms of unrelenting power and top-tier efficiency. To see what we mean, come with us today as we run through the 2018 Kia Optima available engine options and fuel economy! 
2018 Kia Optima engine specs and performance 
With the 2018 Optima you'll get your choice of three available engines, in the form of a 2.4-liter Inline 4 (on base trims) or 1.6 and 2.0-liter turbocharged Inline 4, standard on LX Turbo and SX Turbo trims, respectively. This equates to a maximum horsepower output in the range of 178 and 245 hp, more than enough to get you anywhere you need with as much punch as you want!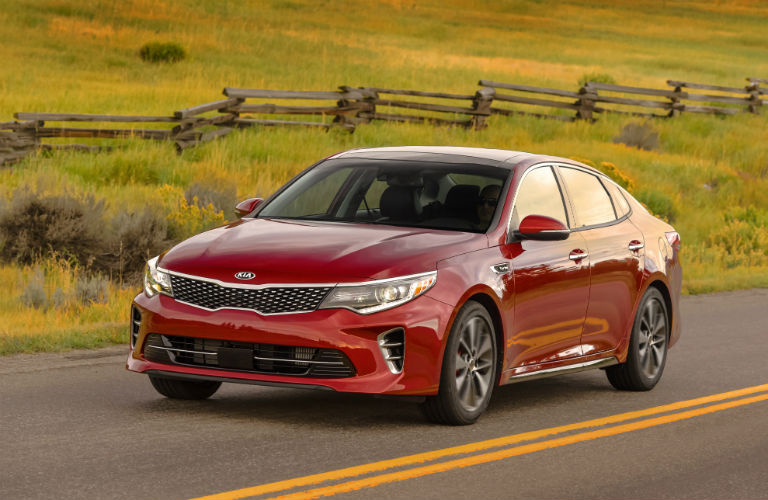 2018 Kia Optima gas mileage and maximum fuel range 
Unlike many of today's sedans, you won't sacrifice efficiency with the kind of power that the 2018 Optima can provide. It can achieve up to 28 miles per gallon in the city and 37 on the highway; plus, with its 18.5-gallon tank, you'll be able to travel as much as 685 miles before needing to pull over and fill up. For some perspective, that's the equivalent of driving from our Concord office to St. George, Utah on one tank! 
---
Click here for more information on the 2018 Optima!
---
Test drive the 2018 Kia Optima in Concord CA 
By now you should be itching to get inside the 2018 Optima and see what else it can do. Contact our Concord Kia sales team today to get behind the wheel for a no-obligation test drive or work out a budget-friendly payment plan if you want to welcome it to your family. We hope to see you soon!