How far can the 2018 Kia Soul travel on a full tank of fuel?
By Product Expert | Posted in Kia Soul on Friday, July 20th, 2018 at 5:41 pm
2018 Kia Soul engine specifications and maximum highway driving range 
Good times and fun vibes are supplied in healthy amounts with the Kia Soul, a crossover that has dared to defy convention ever since it was released to the American market in 2009. Not only is this a quirky, versatile piece of machinery, but the bright, lively engines that it houses inside can take you great distances for less fuel than ever before. Come take a peek at the 2018 Kia Soul engine specifications and maximum highway driving range with Concord Kia today! 
---
Read More: What is the all-electric range of the 2018 Kia Soul EV?
---
2018 Kia Soul power and drivetrain features 
Base and Exclaim (!) models of the 2018 Soul put you in line for some great, efficient punch under the hood. Its 1.6-liter Inline 4 can produce up to 130 horsepower and 118 lb-ft of torque; however, an upgrade to the Soul Plus (+) trim grants you access to its 2.0-liter turbo four-cylinder, which offers 201 horsepower and 195 lb-ft of torque! Combined with an available dual-clutch automatic transmission, that's plenty of attitude while still being playful and fun.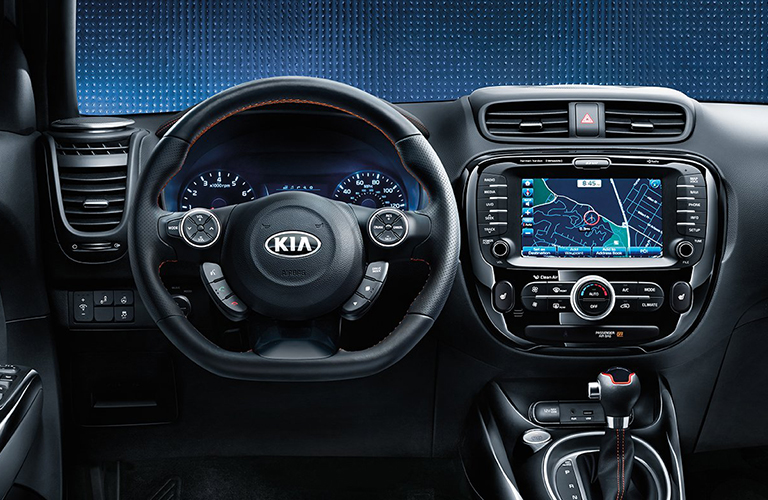 2018 Kia Soul gas mileage and tank size 
The 2018 Soul is a champion of modern crossover engineering, a value that extends to its economy ratings. Base models can achieve as high as 26 miles per gallon in the city and 31 on the highway which, when combined with a 14.2-gallon tank, means that your maximum estimated driving range is around 440 miles! That'd be the equivalent of a trip from our Concord office to San Clemente, in SoCal, on one full tank! 
---
  Read More: What are the best features of the 2018 Kia Soul?
---
Test drive the 2018 Kia Soul in Concord CA 
The carefree demeanor and attitude of the 2018 Kia Soul certainly make it a favorite of many drivers, from young college students on a budget to city-slicking professionals needing an affordable way around town that also shows off some serious personality to boot. If you'd like to see the Soul in action, contact our Concord Kia sales team today to schedule a test drive or sign off on a financing plan! 
---
Read More: Is the 2018 Kia Soul a safe vehicle?
---